Blog
These are Montreal's 20 free outdoor Trekfit parks gyms
May 14, 2018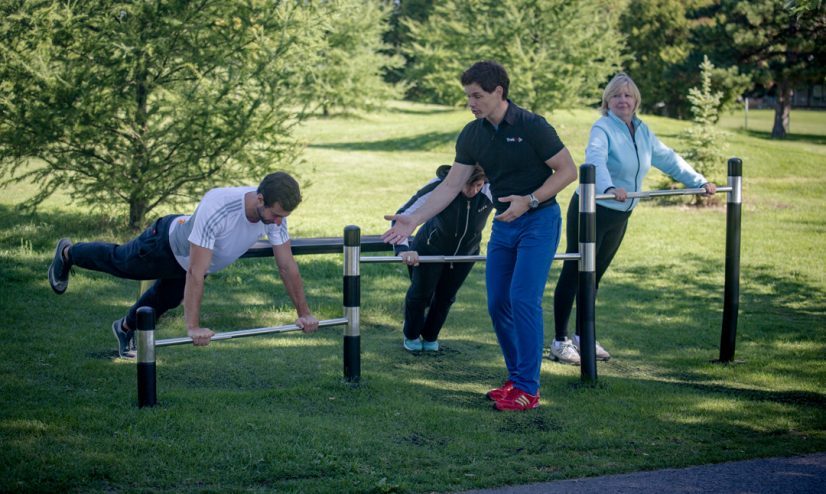 Summer bodies aren't only gained in the gym. An entirely outdoor, innotative, and most importantly, interactive and fun form of fitness is popping up all over Montreal. They are TrekFit Gyms, and there's probably one pretty close to where you live.
Think of TrekFit Gyms as playgrounds for adults, where you can get fit while also enjoying the sun and outdoors. No treadmills, sweaty change rooms or bros constantly chit-chatting about their max weight. Just you, a park, and a good workout.

TrekFit offers Montrealers three ways to get fit: personalized circuits using park equipment (push up bars, step benches, ropes, etc.), BenchFit, exercise programs using nothing but a park bench for specific fitness goals, and Instruction Panels, boards placed at parks outlining specific exercises.
You may have passed by a TrekFit Gym and not even known it, as they look like plain ol' playgrounds. 10+ are already on the island, and you can find the closest one to you using this map of map of every Trekfit in Montreal right here.
If there's no TrekFit in your area, and you desperately want somewhere to workout that isn't the gym, you can personally request TrekFits fitness playground-gear to be installed at a local park using the form on TrekFit's website here.
WILL YOU BE WORKING OUT AT A TREKFIT GYM?