Blog
Not your father's push-ups
May 14, 2018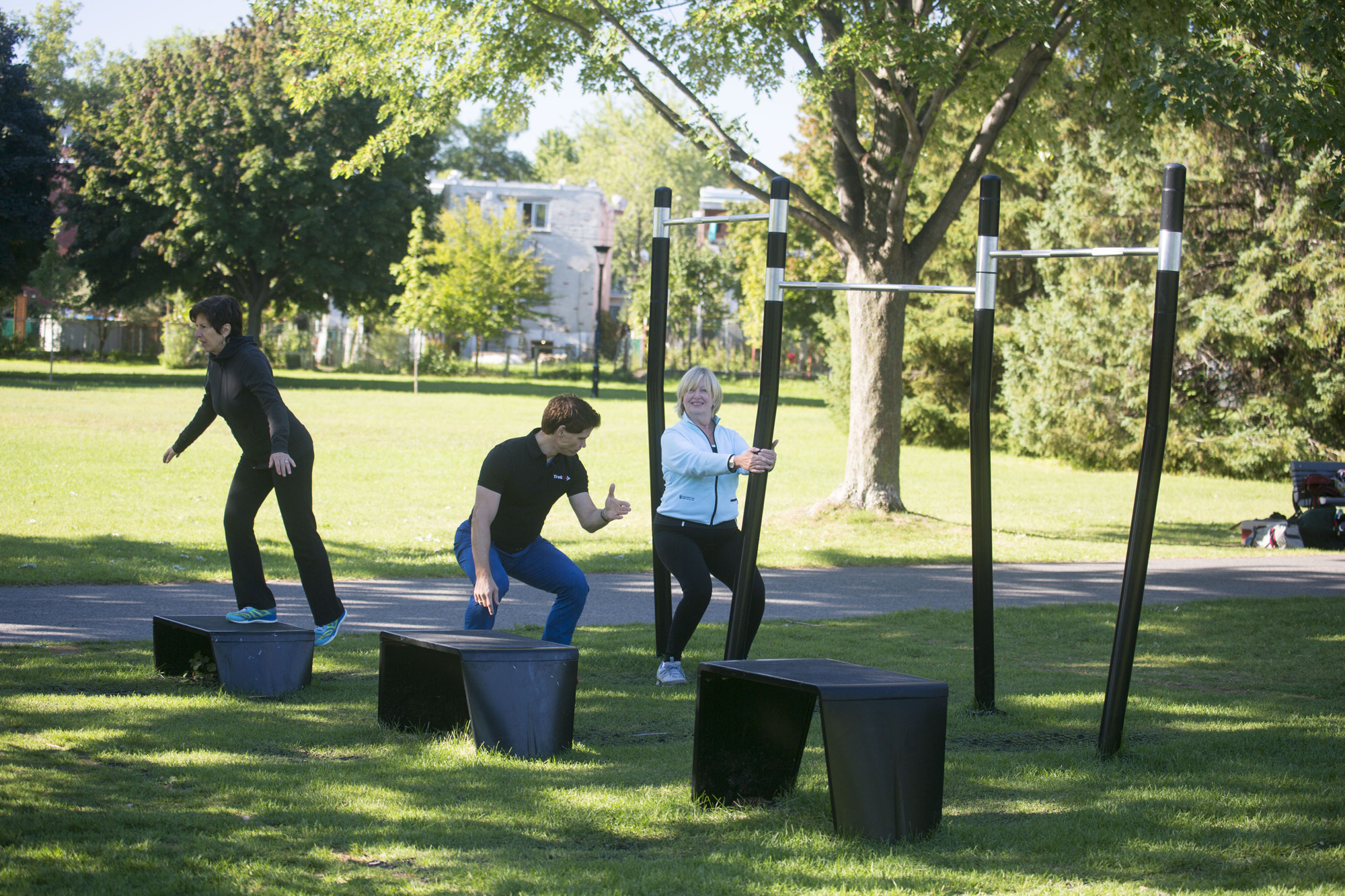 Published in Montréal Santé
TREKFIT adds a twist and a turn to outdoor training
By Jason Santerre
As the city thaws and feeling returns to your fingers for the first time since October, take time to consider a change in your fitness regimen. Take your workout on the road, that is, take TrekFit for a test drive. With 13 courses spread across Mont- real, Île Sainte-Hélène, Laval and beyond, there's a circuit for everyone. Think of it as an alternative to the crowded, testosterone- riddled cacophony of a fitness club.
The concept of an outdoor gym is fairly new to Quebec, but it is one that's attracting more devotees every year. TrekFit's five-station circuit in Parc Jean-Drapeau is one of the most popular. With 17 equipment units, it offers everything you need for a full-body workout. Each piece of equipment offers myriad choices of exercise routine, whether you're a seasoned fitness freak or a senior citizen looking to stay limber.
"The main philosophy of TrekFit is that you don't need bulky equipment and gadgets to train," says TrekFit president, Eric Tomeo. "We demonstrate that, with little or no equip- ment, you can have a complete workout. Plus, it's free, accessible to everyone, and open at all times."
Every station comes with information panels listing ways to use the equipment. QR codes allow users of TrekFit's fitness circuits to access instructional videos from their smart- phone. Each panel consists of one side listing fitness routines for teens and adults with the other side showcasing variations for seniors. Not only are you free to build strength with the aid of state-of-the-art equipment designed by kinesiologists, you will never have to do the same exercise routine twice.
Bonus: All TrekFit equipment is designed and built in Quebec. "This way, I feel like I'm not only creating jobs, I'm changing the world, one park at a time," says Eric, adding that adults now have their own playgrounds and can address their physical fitness on their own terms. "It's very rewarding for me to sit in Park Laurier, close to where I live, and see 30 to 40 people enjoying themselves and socializing in a positive environment."
As for TrekFit first-timers, Eric says the best thing is to just get out there and get to it. "I recommend taking part in TrekFit classes. That way, you can learn how to maximize your time and use the equipment efficiently and simply." And bring friends. Why not make ex- ercise a social outing?
This way, it's more fun. And your partners can help keep you motivated through the summer, into fall and maybe even in winter. "There will always be gyms and fitness clubs," Eric admits, "but more and more people are training outside, 12 months out of the year. Just look at all the cyclists committed to commuting in February."
For more details and to find a TrekFit course near you, be sure to click on trekfit.ca