Blog
Fitness trail launched by city of Cambridge and innovates steam technologies
May 14, 2018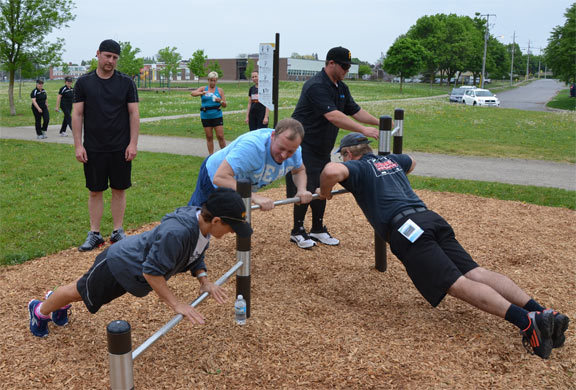 Published 05/23/2013 | By Cambridge Now! Local News
Walk And Workout On The Bob McMullen Linear Trail Along The Grand
Cambridge Fitness Trail Launched in Partnership with Innovative Steam Technologies with Mobile Applications Part of the Mix
Cambridge, Ontario – You can now get mobile in more ways than one on the Bob McMullen Linear Trail in Cambridge . The new enhancements to the 3.2 km trail includes 'Trekfit' outdoor circuit training stations with Quick Response Codes (QR codes) to scan with your mobile device that links you to a video demonstration of the equipment applications.(Although you may want to leave your cell phone at home when you go for a walk…)
Mayor Doug Craig, Ward Councillor Karl Kiefer , Councillor Gary Price (Cambridge Trails Committee Representative) and President of Innovative Steam Technologies (IST) Bob Dautovich today were on hand for the Official Opening. They were joined by Susan Reise, Landscape Architect and designer of the trail component, and the trail's name sake, Bob McMullen, along with other community partners.
"Our trails are an important part of the community and we are grateful to Innovative Steam Technologies and their leadership for partnering with us to make this happen," said Mayor Doug Craig. He says company representatives approached the City with a view to get involved and provide much needed financial support for a project that would benefit the citizens.
"We have a very vibrant team of engineers and skilled talent who also have a desire to give back to the community," said Bob Dautovich, President of IST a leading supplier of heat recovery steam generators for medium size steam generators in the world today. "Our company has been rooted in Cambridge since the early 1990s and this recreational enhancement is another way we want to support our community."
Cutting The Ribbon on A New Community Resource

(Pictured top – ribbon cutting ceremony. Below – Uarda Sivestre (far left)representing Grand River Fitness and Active Cambridge demonstrates an exercise at one of the stations for the Innovative Steam Technologies team.)
The 'Trekfit' outdoor fitness stations complement the outdoor aesthetics and are a good fit with the natural environment. There are presently five stations located 300 metres apart; each covers important areas of circuit training and exercise: warm up, upper body, core area, legs and stretches.
"The location was selected because it was close to schools and in an older, established neighbourhood with lots of seniors who use the trail," said Susan Reise, Landscape Architect for the City of Cambridge . "The stainless steel structures provide a simple, clean design and are also postured in a way to provide spectacular views of the water." The equipment is also designed by a team of Kinesiology experts and has panels at each station to provide instructions on effective use; one side a regular work out for teens to older adults, the other is geared to seniors. There are even the QR codes supporting people wishing to view videos on proper use techniques if the stationary images are not enough.
While the partnership, design and trail enhancement is unique, the City of Cambridge did provide a wooden fitness element on trails back in the early 1970s; remnants of this equipment can be found in Victoria Park. For more information on the trail including the point of confluence for the two waterways, and the view of the original site of the 1807 grist mill,click on the link listed below this article.
Below: Trail Blazer Bob McMullen, and Bob Dautovich, President of Innovative Steam Technologies (IST) sponsor to the Fitness Trail.

Trail users will be able to stop and exercise at various stations along the way.
Larry Allen is a Preston resident who has been using the river and the foot paths for 45 years. After moving from Hamilton he found that Cambridge was a dream come true.

Below: Various stations a long the trail offer different fitness configurations.