Blog
Discover TREKFIT with Marie-Claude Perron
November 02, 2018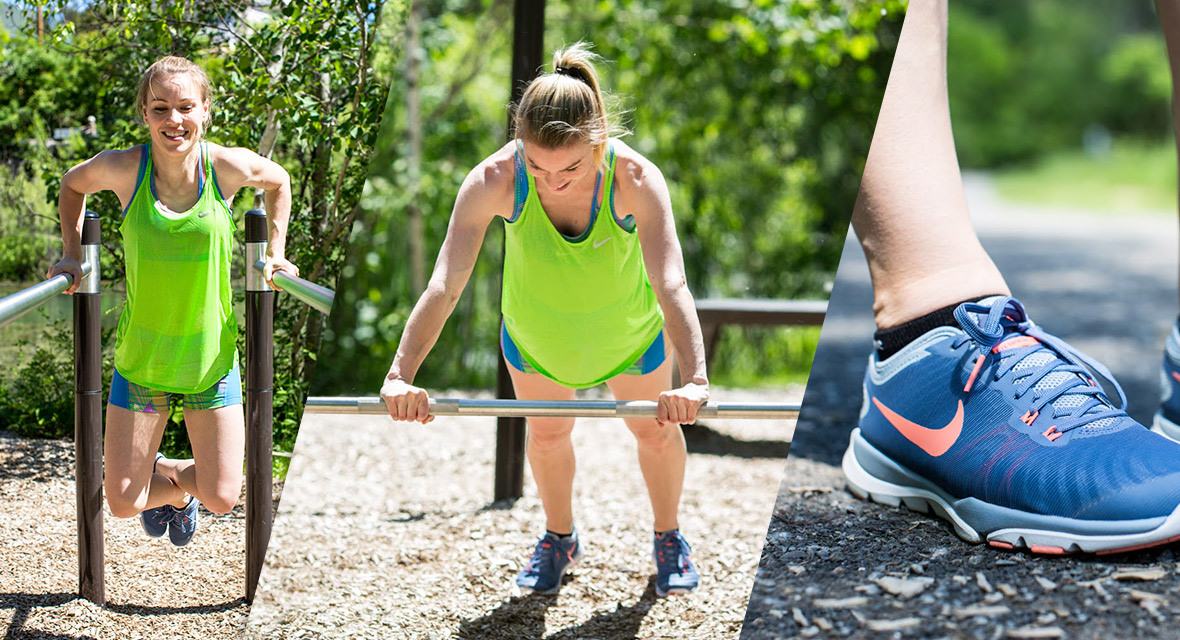 Are you looking to exercise outdoors, escape the gloom of the gym, or find a sport that fits into your schedule—whatever your schedule? Try TREKFIT on for size.

TREKFIT is a workout program that is practiced on an outdoor fitness circuit. The circuit is free and as well-adapted to beginners as it is to advanced athletes. It can be done as a complete workout, or as part of a larger outdoor cardio or cross-fit program.
The program and its circuit were designed by a team of kinesiologists, with the goal being to engage every muscle with the least equipment possible. The results are impressive!
Visual demonstrations on each piece of equipment show how the exercises are to be performed to target the right muscles. For each exercise, three levels of difficulty are proposed so that all types of athletes can feel comfortable and challenged. The TREKFIT app, available at the Apple and Google Play stores, suggests different training programs based on your goals and level of fitness.
If you're doing TREKFIT for the first time, we recommend you try the beginners circuit, as it's important that you learn correct posture before upping the intensity. Whatever your fitness level, remember to keep your core engaged at all times in order to avoid back injuries.
The Advantages of TREKFIT
TREKFIT is a complete training program that works every muscle in the body. The circuit is easy to complete by yourself. TREKFIT builds your muscular endurance, your muscular strength, and if you complete the workout as a circuit, your cardiovascular endurance as well.
The equipment provides you with the chance to do a different workout every time so that you don't get bored—plus each exercise works your core. It's a great way to get that flat stomach or complete six-pack before summer's end!
TREKFIT's greatest advantage is the freedom it gives you. You can do it wherever you want, whenever you want—so go ahead and adapt your workout to your schedule and your whims.
Getting Ready
A jogging, speedwalking or cycling warm-up before starting the TREKFIT circuit is ideal to avoid strains and injuries. The goal is to do a minimum of five minutes of pre-workout cardio before setting off. If you haven't done any cardio by the time you get there, you can compensate by doing jumping jacks, burpees or jogging in place.
Most TREKFIT exercises require no equipment, so it's easy to arrive on location without carrying anything. If you want to be equipped for 100% of the available exercises, you'll need to bring an elastic.
For a personalised circuit and a demonstration video, download the app prior to your workout.
Where to Go
TREKFIT circuits are located throughout the province. You can find the location nearest you on the TrekFit website or mobile app.
If there are no TREKFIT circuits near you, you can simply replace the equipment with some of the things often found in schoolyards. If this is the option you choose, we highly recommend using the app to get the finer details on the exercises and to view the demonstration videos.
What to Wear
For your TREKFIT workout, you'll want comfortable sportswear—similar to what you'd wear at the gym.
If you're integrating the TREKFIT workout into a greater cardio workout or your routine jog, choose running shoes. If you're completing the circuit alone, opt for court shoes.
Check out Marie-Claude Perron during her TREKFIT workout

Source : https://www.sportsexperts.ca/e...